Zeynel Bey mausoleum, Hasankeyf, Turkey
The Zeynel Bey mausoleum is the tomb of the eldest son of the Turkmen Uzun Hasan, Zeynel Bey. It is situated on the north bank of the Tigris from the city. The tomb was built by the architect Pir Hasan, after Zeynel Bey had fallen in battle CE 1473.
Wall pattern
Transliteration of the kufic in the pattern.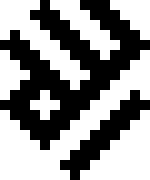 الله
Allah
محمد
Muhammad
علي
Ali
References